2022 Annual Weible Columns Fall Pilgrimage with Radio Maria's Fr. Dan Reehil as Spiritual Director
October 30 - November 07: from $2,299
ANNUAL FALL PILGRIMAGE
Our Lady invites each and everyone of us to a closer relationship with her Son, Jesus. A pilgrimage to Medjugorje gives us an incredible opportunity to meet Mary and Her Son is a very special and holy way. Many graces are poured out upon us while Medjugorje, deepening our faith and prayer life. Join us for a wonderful time of love, laughter and sharing and come home renewed in your faith. Pilgrims have often described Medjugorje as "a taste of Heaven on Earth". In Medjugorje, when one takes time to pray and be still, it allows God to work in our hearts in an indescribable way. I hope you can join us for what will be an incredible week!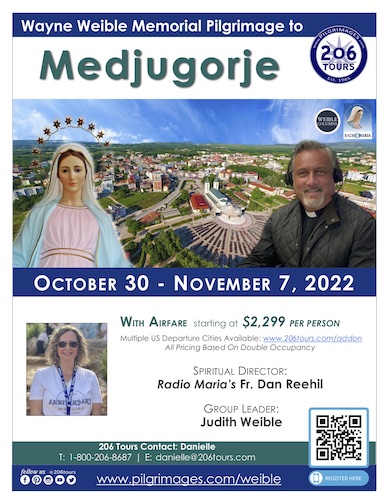 FR DAN REEHIL
Radio Maria's Priest Director Fr. Dan Rehill will be our spiritual director on our 2022 pilgrimage to Medjugorje! As many of you may remember in our November newsletter last year, I wrote about Fr. Dan and his 1998 conversion back to his faith through a pilgrimage to Medjugorje with 206 Tours. This experience led to his ultimate call to the priesthood. He is the parish priest at St. Catherine's Church in Columbia, Tennessee and is also the diocesan exorcist. Fr. Dan hosts the radio show, Battle ReadyMonday through Friday on Radio Maria 9:00am Central Time. Tune in through the Internet to radiomaria.us or download the Radio Maria App on your phone or tablet and get to know our 2022 priest! We hope you will be able to join us on what we are planning to be the spiritual journey of a lifetime.
Your Medjugorje Pilgrimage Includes:
Round-trip airfare from New York (or an airport of your choice check rates*)
Airport Taxes & Fuel Surcharges
7 nights in a modern Pansion/Hotel with private baths
Transfers as per itinerary
Breakfast and Dinner daily
Wine with dinners
Transportation by air-conditioned motor coach
Assistance of a professional local guide throughout
Sightseeing and admissions fees as per itinerary
Mass daily & Spiritual activities
Visit to Community Cenacolo
Meeting with visionaries (Pending availability)
Luggage handling (1 piece per person)
Flight bag & portfolio of all travel documents
Not included: Lunches, Travel Insurance optional at $99-$229, Cancel for Any Reason Protection @ $199, Tips to your guide & driver ($7-9 per day) and Items of a personal nature.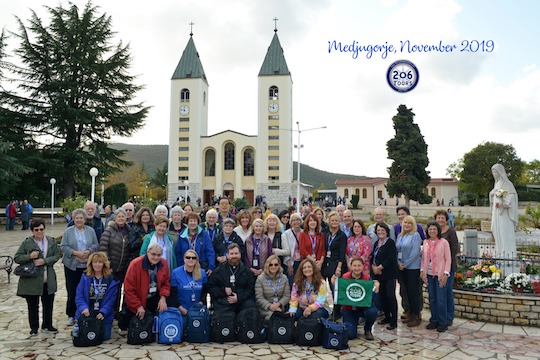 2019 Pilgrimage Group photo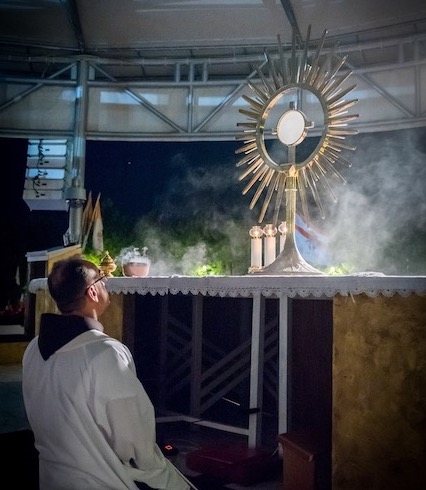 Eucharistic Adoration in Medjugorje!
Contact Weible Columns office with questions:
Telephone: 1-931-223-8278
Toll free: 1-877-896-6061
Email: info@weiblecolumns.org
Contact 206 Tours to book or for more details:
Telephone: 1-800-206-8687
Email Sandra: sandra@206tours.com
Email Danielle: danielle@206tours.com
(Be very specific that you want to book on the WEIBLE PILGRIMAGE TO MEDJUGORJE)

CLICK HERE to visit and book through 206 Tours' Weible Pilgrimage to Medjugorje webpage!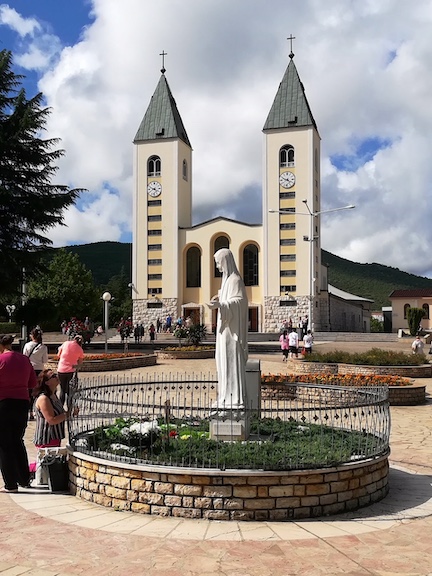 Itinerary
* Day 1 - Depart USA
Board your overnight transatlantic flight. Dinner and breakfast are served on board.
* Day 2 - Split, Dubrovnik or Sarajevo - Medjugorje
After an early morning arrival in Frankfurt you will have a connection flight to Split, Dubrovnik or Sarajevo. Upon arrival, you will be greeted by a tour guide and driver who will then take you on the 2 1/2 hour drive by private motor coach to the village of Medjugorje. Once there, you will be introduced to your host family in whose modern and comfortable house you will be staying for the next seven nights. Dinner and overnight.
* Days 3 to 8 - Medjugorje
You will experience the beauty and peace of this simple village. During your stay in Medjugorje you will have the opportunity to share your faith with thousands of pilgrims from all over the world. Our local guide Slavenka, will accompany the group throughout the week. Here are some of the activities we'll be sharing with our fellow pilgrims:
Each morning at 10:00 AM we will assemble at St James Church for the English speaking Mass.
We will follow the same path up Apparition Hill where the young visionaries first encountered Our Lady. Touch and pray before the cross that commemorates the spot where Mary first appeared to the visionaries.
Our guide will arrange meetings with the visionaries provided that they are in Medjugorje during your trip, and pending their availability.
We will have the opportunity to climb Mt. Krizevac (Cross Mountain), where in 1933 the villagers built a 30' high cross on the anniversary of Jesus' crucifixion. This Cross contains a relic from the actual Cross of Christ given to the villagers by the Pope.
We will Visit and pray at "Blue Cross" at the base of Apparition Hill, which is a place of great healings and graces.
We will visit the community of Cenacolo.
At 5:00 PM each evening (6:00 PM daylight savings time) we will join the villagers and pilgrims to pray the rosary. Be present in the church during the time of the apparitions at 5:40 PM (6:40 PM daylight savings time) and then stay for the Croatian Mass and the Blessing of the Sick. Thursdays and Saturdays is Adoration of the Blessed Sacrament and on Fridays, Veneration of the Cross in the church.
Private Mass held at one of the orphanages private chapels
Slavenka will arrange other special opportunities for us to grow spiritually.
Additionally, during our trip we will enjoy talks by Wayne Weible and have share time within our group.
* Day 9 - Medjugorje - Split, Dubrovnik or Sarajevo - USA
After an early breakfast and heartfelt farewells, we leave by motor coach for Split Airport for return flight home.

(left to right) Milanka Lachman with Medjugorje visionary, Marija!

Medjugorje visionary, Vicka!

Medjugorje visionary, Mirjana!
Contact Information to Book
Contact our office for details:
Telephone: 1-931-223-8278
Toll free: 1-877-896-6061
Email: info@weiblecolumns.org
Contact 206 Tours to book or for more details:
Telephone1-800-206-8687
Email Sandra: sandra@206tours.com
Email Danielle: danielle@206tours.com
(BE VERY SPECIFIC THAT YOU WANT TO BOOK ON THE "40TH ANNIVERSARY WEIBLE PILGRIMAGE TO MEDJUGORJE")
CLICK HERE to visit and book through 206 Tours' Weible Pilgrimage to Medjugorje webpage!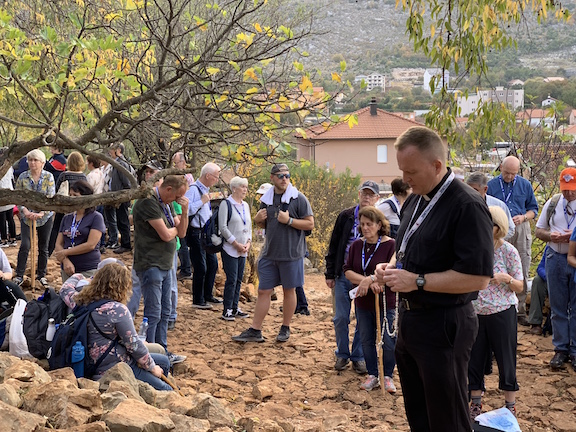 REFLECTION ON OUR 2019 PILGRIMAGE
GRACES ABOUND!
Our Medjugorje pilgrimage was incredible with forty pilgrims gathered from all over the United States. We arrived in Medjugorje from Split, Dubrovnik and Sarejevo.
Our pilgrims were wonderful! Each and every pilgrim had a story of what had brought him or her on this journey to this miraculous village on the other side of the world. Each pilgrim added something special to the group. Thank you for being such amazing grace-filled people.
Slavenka, our guide was wonderful not only sharing her knowledge with the pilgrims but her faith and personal testimony as well. Fr. Ed Chalmers offered Holy Mass at St. James and Confession to our pilgrims in the evening. He too shared his testimony. We were also graced to have a second priest with us, Fr. John Kightlinger. He was a great asset to our pilgrimage and offered Holy Mass for us at Siroki Brijeg. He also took some pilgrims up Cross Mountain during the night.
We did endure some rain this week but on a positive note, many of us went into St. James Church for Eucharistic Adoration instead of sitting around the outside altar. I personally had two opportunities to be present kneeling (and sitting) on the floor, directly in front of the Blessed Sacrament. I spent each hour totally transfixed and immersed in prayer. There is something incredibly special about Eucharistic Adoration in Medjugorje. The grace from God is so powerful it is tangible.
As a reflection, I am going to do something a little different this year. Instead of writing about our daily events, I am going to let you read about our pilgrimage through a series of testimonies from some pilgrims. The week was filled with incredible Holy Spirit graces. Below are just a few of the testimonies.
-- October 29th, 2019 was one of the scariest but best days of my life! I was given the opportunity to go on this holy pilgrimage to Medjugorje through a donation. Due to the fact my husband has heart disease, I was scared to leave him and travel to Europe for an entire week. I took the chance and went offering my prayers for his healing.
I had never visited such a holy place where everyone was catholic and everyone worshiped in the same way even though they were praying in different languages. I met some amazing people in our pilgrimage group and made friendships that I hope will last my lifetime. I went to Medjugorje not sure what to expect and I cried all the way home wanting to go back. I want everyone to feel the love I now feel from Jesus and His mother Mary.
It was the most wonderful and holy experience of my life! Little did I know I would be filled so full of the Holy Spirit. I grew close to the Blessed Mother, which I had never felt before this pilgrimage. I went to Medjugorje to beg for healing prayers for my husband and I left with such a feeling of grace and love. Medjugorje has changed me forever.
-- Jennifer Ramsey Smith
-- The "after-effect" of my Medjugorje pilgrimage is perhaps the most telling testimony of all. Once home, I noticed my spiritual antennae had become acutely aware of Heavenly Presence, The Holy Trinity, Our Blessed Mother, St. Joseph, other saints and angels' love for me! I was filled with desire for to live simply, purely and devoutly, and, with great joy. I feel Heaven touched my heart and soul. Just as I have read the visionaries lives were changed by the visits from Our Lady, I, too feel my life is profoundly changed.
My effort to find the words to properly explain this experience leaves me lacking. I felt a purity in the village, Apparition Hill, the simplicity of whole area felt surreal – the beauty of other faithful souls, the companions on the journey ~ imprinted my soul with a profound presence of God's love for me, and desire to reflect that love.
The message found on so many items in stores, "If you knew how much God loved you, you would cry with joy!" This message rings loud and clear, and more profound as each day passes.
I was surprised to learn many pilgrims had made multiple trips to Medjugorje. I now understand. There is a silent, but powerful heart-tug to return. Return to Our Mother, a place of refuge and love but more a place just short of Heaven.
-- Melanie Stanley Flowe
-- I want to share just a bit of my wonderful trip to Medjugorje. I did not know what to expect but I knew that my heart would be filled. Medjugorje did not disappoint and I came home with a new sense of peace. "I came to tell you that God exists" words of our Blessed Mother, for me, I know this to be true. Mother has always guided me to her son Jesus. Since I was young, I felt that calling in my heart. I have not been a perfect person as I am a sinful person like we all are.
My love for God allows me to know that I am forgiven for my faults and that His mercy will engulf my soul. I hope everyone says a prayer for peace in the world. I commit my life completely to God. "I feel sorry for those who do not believe in God, because Our Lady wants no one to be lost. We can help each other find the right way to God. It's up to the people to obey the messages and be converted." We will all know at the end of our lives that God does exist. Love to all.
-- Susie Garcia-Hayes
A KISS ON THE CHEEK
-- What an unbelievable morning! My head is still spinning from the experience; it's so unbelievable how it unfolded. It was November 02, the morning of the apparition of Our Lady to Mirjana. My husband and I were waiting, and sheltering ourselves from the pouring rain under the awning of a little shop across the street from the base of the hill path that leads to the Blue Cross where the monthly apparition happens for Mirjana. Slavenka, our guide, came up to me (as we were speaking with Judith Weible), and said, "They only have one singer this morning. Can you come and sing something Marian for the people?" And so, I was thinking, "Oh, for the 10 o'clock mass that follows this event? Sure!" but then she continued, "If so, they'll take you up and you'll be right next to Mirjana." The surprise and reality of what she meant started to sink in, and my answer was something like, "Oh, I'm not worthy…but okay."
My husband John was also given permission to come up with me and be my umbrella carrier (the climb was treacherous amidst the heavy rain and mud); and eventually I had to separate from him in the vicinity of the Blue Cross shrine and move to the inner circle near the musicians, but he wasn't too far away. Men came to set up a large square umbrella at the altar, and then, I was handed the microphone and sang the well-known Gounod's Ave Maria in between decades of the rosary. As it turned out, Mirjana was at that moment ascending slowly up the hill, so the Ave Maria literally accompanied her strenuous climb.
Maybe five minutes later, Mirjana arrived to join us in prayer and prepared herself for the arrival of Gospa, the Queen of Peace. I had a few wonderful photo moments for the memory, but was mostly focused on prayer for our children, all our loved ones and rosary and meditation during this whole incredibly blessed experience. The gloomy clouds actually ceased raining and parted a bit during that apparition of Nov 2nd, 2019, around 8:26 am; what a gift to the people!
For me, this was like a kiss on the cheek from Our Lady as my face actually felt soft, radiant heat during the apparition, and I was not blushing, believe me. This surprise involvement is a memory that I will forever treasure. Laus Deo!
-- Catherine Laidler-Lau, soprano/pilgrim
In addition to Catherine singing at the apparition, she also sang at Holy Mass in St. James church and her and her husband John who is a pianist, graced us with a superb concert event at a local winery. Thank you to you both for sharing your incredible talents with us.
--It is not often I share my own personal testimonies in this newsletter but I do feel compelled to share this one. My own witness began on about the fourth day of the pilgrimage. We were sitting on the bus outside Cenacolo Community after our visit waiting for the last pilgrims to board the bus before traveling back to our hotel. I sat on the bus, twisted around speaking to several pilgrims sat behind me but across the isle.
When the bus started and I turned around, I felt a terrible twinge in my lower back and I knew I had slipped a disc. For most of my life, I have struggled with back issues, with the same two discs constantly bulging in my spine.
When we arrived back at the hotel I could barely stand up, nor exit the bus easily. I went straight up to my room where I had a supply of pain pills, muscle relaxers and a back brace (forever prepared for this repeated event).
I came down for evening rosary and dinner with a smile on my face despite the pain. Everyone could tell I was walking awkwardly, and asked what I had done.
The next day was no better and I struggled through the day with ice, back brace and more pills... The following day, we visited Siroki Brijeg and Tijalina, both places about 30 minutes outside of Medjugorje. I took a pillow from my room to place behind my back, on the bus. Once at Siroki Brijeg, I spoke with a priest friend about my back pain as I was once again walking stiffly, into the church. After a beautiful Holy Mass, we went onto Tihaljina to visit the Our Lady of Grace statue.
My priest friend invited me to the back of the church. He began praying over me. He blessed me with holy water from Lourdes and gave me the Anointing of the Sick and then prayed over me. While I was being prayed over I just kept offering myself to God for whatever he wanted of me. I had offered my pain for the pilgrims in my group so I really wasn't too concerned about my condition as I determined God had allowed it for a reason and I was ok with that. I continued to pray 'God's will be done!' The priest finished his anointing and prayers and I thanked him and went back to my group.
We eventually left the church and boarded our bus once again. We were almost back to Medjugorje when I realized I hadn't put the pillow back behind my back and it was sitting across my knee. Wow, I thought, my painkillers have certainly kicked in!
We were dropped off in front of the church where we were going to have lunch in the various restaurants. I headed up the stairs to Viktor's Restaurant and about three quarters the way up the staircase, when I realized I was climbing the stairs! I couldn't believe it; I had been taking the elevator both up and downstairs in our hotel only that morning.
We all settled down at our table for lunch and a friend from Medjugorje entered the restaurant to join me for lunch. I had not seen her for a year. I jumped up to greet her when she came into sight and that was the third and final sign I needed to realize I was no longer in any pain. It had simply gone. From that point on, I never took another pain pill and took off my back brace. Two days later I was kneeling in church for Eucharistic Adoration and walking across the fields to Blue Cross. God, in His mercy, had healed my back. He had allowed my struggle and chosen to heal something as inconsequential as a slipped disc. He had seen my pain.
I share this witness so even in our least sufferings we never underestimate the graces God has for each of us. And never forget that He is always watching over us and knows all of our trials and all of our joys. Always expect the unexpected with God. Cry out to Him about even the smallest of concerns. He is always listening.
-- Judith Weible
REFLECTION ON OUR 2018 PILGRIMAGE
WOW! WHAT AN INCREDIBLE WEEK!
Our "Wayne Weible Memorial Pilgrimage" to Medjugorje was, without a doubt, one of the most grace-filled weeks I have experienced. Firstly, I flew to Medjugorje with my very good friend, Diann who came on our pilgrimage last year and with Wayne's goddaughter, Kimmy. Soon, Christine and her husband, Alex, joined us on our adventure. Christine hosts the radio show, "A Light in the World" on Radio Maria. She had interviewed me earlier in the year, after Wayne passed away, and had decided to join us on pilgrimage.
Our group traveled into Medjugorje from Split, Dubrovnik and Sarajevo, originating in the countries of USA, Australia and England. As you can imagine, we didn't actually get to meet each other properly until the morning after our arrival.
Milanka, president of 206 Tours, decided to join our pilgrimage and I was thrilled she was coming. She loved Wayne very much, as did our Medjugorje guide Slavenka, and it was only fitting that we would all be together for this Memorial Pilgrimage. It was such a privilege to have Milanka in our group, as she met the pilgrims and shared so much with us. Thank you Milanka.
Fr. Ed. Serena joined us last minute as our spiritual director when Fr. Ed. Chalmers had to cancel due to health reasons. Fr. Ed was a wonderful addition! He tirelessly led us in prayer, Holy Mass and heard confessions every evening, making himself available to our group whenever he was called upon. I cannot thank him enough. The Holy Spirit had definitely put him on this pilgrimage but I will let you hear that story from Milanka later in this newsletter, in the article titled, "There are no coincidences with God".
Our first morning started on November 1stwith an orientation meeting on the grounds of St. James Church. It was All Saints Day, which is a public holiday both in Croatia and in Bosnia Herzegovina where Croats are the majority. The following day, All Soul's Day, is traditionally celebrated by visiting the graveyards of loved ones, laying flowers and lighting candles. Holy Mass is celebrated in every catholic graveyard either on All Saint's Day or All Soul's Day. It was a treat to witness such love and respect for the dead.
The next day was the day of Mirjana's apparition, which takes place at the Blue Cross on Apparition Hill at about 8:00 am. Determined to give the group a chance to witness Mirjana's incredible facial expressions during an apparition, I invited those that wanted to join Diann, Kimmy and me, in getting up at 3:00 am to walk through the fields to the mountain and to sit on the rocks for four hours, to join us. Surprisingly, about ten pilgrims decided to come! (The apparition is attended by several thousand people and so one must get up very early to be anywhere near Mirjana). Slavenka, our guide, escorted the rest of the group up to the hill at 7:00 am for the apparition.
We prayed the rosary and sang for the entire time, waiting for Our Lady to come! In the words of the pilgrims, "One of the greatest moments on the pilgrimage was getting up at 3:00 am, to be sure to have a great spot for Mirijana's apparition, sitting on a hard rock praying, singing, meditating in the still of the early morning. I could talk for days just about the apparition..."
On Friday evening my father arrived from England. My parents actually divorced when I was a one-year-old baby and so I have never really got to know my father. He came to support me for the memorial service but not being catholic or religious, I was a little nervous about what he would think of Medjugorje. However, my fears were quite unfounded as he was very touched the next evening during the Eucharistic Adoration service and was amazed by the kindness and friendliness of the people of Medjugorje and the pilgrims.
The next morning, we climbed Apparition Hill as a group, silently, and then praying the rosary together at each station. In the evening, we went to St. James for Eucharistic Adoration. As we walked towards the church we could see people from all directions heading towards the church. By the time we arrived behind St. James there were thousands of people sitting in almost silence waiting for the service to begin. Once it started you could almost touch the grace that filled the air. The Holy Spirit was so powerful, the presence of God so apparent it was like a cloud hovering over the altar and the huge congregation. I sat/knelt on the concrete ground as there were no seats left and normally I would have been terribly uncomfortable but when the priest stood up to repose the Blessed Sacrament, I didn't understand what he was doing as in my mind the service had just begun. I had no concept of time and couldn't believe it was already over; I didn't want it to end. For me, this was one of the highlights of the pilgrimage. All the pilgrims had a similar experience and when we returned to our hotel, spirits were high. I went to bed, thinking, "this pilgrimage can't get any better!" but the graces kept coming...
The next day was Sunday. We climbed Cross Mountain in the morning, lead by Fr. Pat from Wilmington, North Carolina. This was a deeply spiritual time for each person to carry their own cross up the mountain, along with Jesus, and then leave it behind at the top. After the climb, we had a private mass for 206 Tours pilgrims at a small church close by to the village. It was truly beautiful. Upon leaving the church, we announced to the group that we had a special treat for them, we were heading straight to the visionary, Marija's house for her evening, private apparition. The pilgrims were overjoyed! We entered the room and prayed the rosary while waiting for Marija. She came out and kneeled in front of our group, directly in front of me for the apparition, which lasted about four minutes. I knew Wayne was working from Heaven, blessing me in a special way and our group.
After the apparition, Marija repeated what Our Lady had said during the apparition and told us that she had blessed each of us present. Marija then gave us a short talk. Upon finishing, she showed us how Jesus and the Holy Mass was so much more important than an apparition by announcing we would have mass right away, right there in her retreat house. Exhausted as we were, we all thought this was a perfect end to the day and so Marija had me set up the altar for Holy Mass, while the priests scrambled to vest for mass and find a book with the readings in English.
Monday was an emotional day for me with the happiness of the pilgrimage mixed with the sadness of missing Wayne and having his memorial service. Upon arriving at St. James for the service, I met David Parkes. As many of you know he is an Irish, Catholic singer with an incredible testimony, I have shared with you later in this newsletter in the article titled, "The Physical and Spiritual Healing of David Parks". David was kind enough to sing "Ave Maria" at Wayne's service and it was incredible! Wayne would have loved it!
After the service, we all headed to the "Yellow Building" for a talk by Fr. Leon who is the parish priest in Medjugorje in charge of the English-speaking pilgrims. He gave a superb talk, embellished with his usual humor but right on the mark! What a gift he has for speaking!
After the talk, we headed to Grace Hotel for Wayne's memorial service reception. Grace did a lovely job placing Wayne's photo over the mantle with a candle and providing a fabulous spread of food. The guides and I offeredshort reflectionson Wayne and it was a great time to share stories about himand all he did for Medjugorje and each of us.
"Our week was also filled with a visit to Community Cenacolo, the drug rehab community and a visit to Tihaljina to see the statue of Our Lady of Grace. We also had daily mass, two additional evenings of Eucharistic Adoration and an evening of Veneration of the Cross. Each day at 5:00 pm, David, one of our pilgrims, would lead us in the rosary, pausing at 5:40 pm for the time of the apparition. Almost all the pilgrims would gather around for this special prayer time together. On the last evening, Fr. Ed. even added a healing service.
Slavenka worked diligently all day, everyday and long into the evenings to make this pilgrimage an incredible experience for each and every pilgrim. I cannot imagine a pilgrimage without her, thank you, Slavenka, for all your hard work; it doesn't go unnoticed.
No pilgrimage to Medjugorje would be complete without mentioning Viktors restaurant! Each lunchtime, most of our group would gather at Viktors for what I consider to be the best cuisine in Medjugorje. With its new location overlooking St. James, it is a great place to take a breath and some nourishment between activities. Great sharing, bonding, love and laughter took place at Viktors during this pilgrimage.
Lastly I have to mention our pilgrims. They were wonderful! Each and every pilgrim had a story of what had brought him or her on this journey to this miraculous village on the other side of the world. Each pilgrim added something special to the group. Thank you for being such amazing grace-filled people, each one 'A Light in the World'; just like the title of Christine'sradio show!
God bless you all and hope to see you on next year's pilgrimage!
Judith Weible
Review:"This trip is a must!!! We are so sad to be back home. Our hearts belong in Medjugorje. Judith and Slavenka make the extra magic happen! God is good. We will be back again and again!" Angela
Review:I have one word for everyone, "GO" a local resident here in NB that came from Slovenia nearby Medugorje, Bosnia-Herzegovina said this to me and the 10/31-11/7/18 pilgrimage was life changing! Rita