SHARE THE MESSAGE AND BLESSINGS OF MEDJUGORJE with your parish community and continue Wayne's mission by inviting Judith Weible to speak in your parish.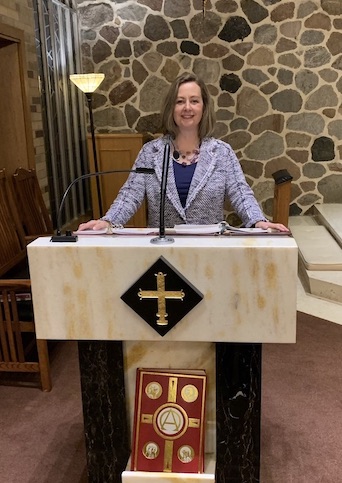 Dear Children of Mary,
We invite you and your parish to enjoy a Medjugorje evening of prayer and reflection through a talk shared by Judith Weible who has traveled to Medjugorje countless times with her late husband, Wayne Weible author of 12 books on the topic of Medjugorje and our Blessed Mother.
She has also led two large groups on pilgrimage since the passing of Wayne and has continued to run Weible Columns, including

publishing

the monthly newspaper.
Below are a couple testimonies shared from a recent event in Wisconsin:
"St Benedict Parish, thank you for inviting Judith Weible to speak last evening at your parish and for pulling together such an amazing group of people. I truly enjoyed the fellowship and camaraderie and of course I will never tire of hearing the Messages of Blessed Mother. I am praying over you all, so that many of you can make Pilgrimage with Judith and Weible Columns Inc. May the Holy Spirit cover and protect each you as you spread his light and love!!! PS Mollie you are a rock star!! You are on fire and moving mountains. Thank you for serving God in such a loving way!!"
And another: "A friend and I came to hear Judy's talk last night. It was really incredible. Judy was poised and articulate. The audience was so engaged with eye and ears glued to every word Judy spoke. You could literally feel the presence of the Holy Spirit. Nearly everyone came up to her and complemented her on the talk. It was so fun to be there with her." ~ Miki Shultz
Are you ready to invite Judith Weible to speak at your parish?
Contact Weible Columns
for details!
Toll free: 1-877-896-6061
Judith Weible 2023 Speaking Schedule:


St. Anthony of Padua Catholic Church, Luling, LA




August 15:

6:00pm after 5:00pm Holy Mass for Feast of the Assumption of Mary, Mother of God.
Contact St. Anthony of Padua Church for details.
Judith Weible 2020 Speaking Schedule:
Radio Maria
September 2, 2020, Judith Weible was interviewed by Christine Rossi, host of Radio Maria's A Light in the World Podcast.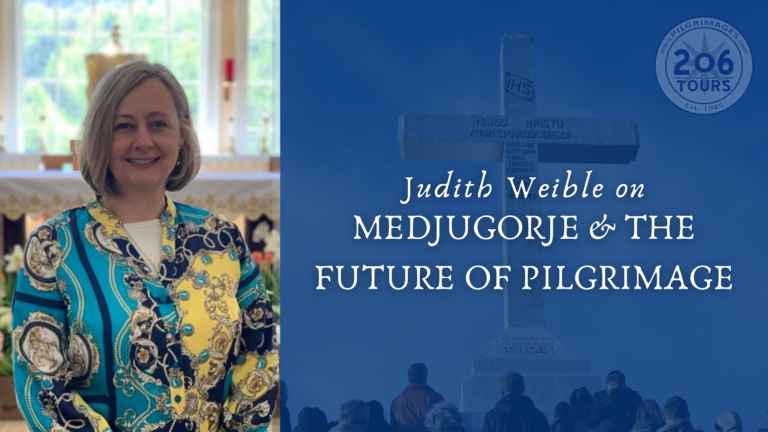 Below is some of the transcript:
To Judith, Pilgrimage is an essential part of "spiritual growth" that provides opportunities to "receive special graces to move forward, to move closer to Christ."
"I do believe that God calls us on pilgrimage…. when there are special graces to be given to us. When we are at home with the business of our lives, sometimes it is impossible for God to speak to us and shower us with those graces. And when he calls us on Pilgrimage it's because he has a powerful grace to give us, and we take a week out of our lives, and we quiet down – no television, etcetera, etcetera, and we give that week to God. And when we give that week to God, He can get through the noise of life… and Pilgrimage is not just about prayer to God, but perhaps more importantly it's about listening to God."
Judith predicts there will be a "huge boom" in pilgrimage travel post-pandemic, as she believes this time in quarantine has given many an even stronger desire to go on Pilgrimage. She says that pilgrims "crave Pilgrimage" because the "more you spend time alone with God, the more you want to spend time alone with God".
Click here to listen to the interview and scroll to the bottom of the page!
St. Benedict Catholic Church, Fontana, WI
February 03 - 6:00pm
Contact:
Mark Cavin:619-787-9521
Molly Smith: 262-275-2993
Judith Weible 2019 Speaking Schedule:
St. Helena Catholic Church, Clayton GA.
October 14 - 6:00pm.
Listen to a talk on Medjugorje followed by a question and answer session and a pot luck dinner.
Contact Weible Columns for details.